There are four simple steps to booking your wedding with us...
1. Visit our website at www.garyolsen.com/photography and click on the "packages" button.
2. There are several packages fully described on the site with terms for each agreement. Prices run from $1500 up to $3,000, and we can customize a specific package for you. Make a list of what you want your professional photography team to shoot, and we'll give you a package price. We can provide you with a wedding website as well as photography and videography. All photography and videography are delivered to you in a digital form unless otherwise specificied. No extra charges, no upsales for albums or enlargements that you can print yourself on your own Hewlett Packard or Epson printer. Or, you can take your image files to your favorite retail store that offers digital image printing. Finally, your guests can download printable images of your wonderful day from your very own wedding website that Gary Olsen hosts. No matter which package you chose, your wedding photos becomes a permanent part of Gary Olsen's online portfolio.
3. Email or call us with the date of your wedding to make sure we are available. If we are, we will contact you as soon as possible to secure the date.
Our phone number is 563-588-4578.
Email us at olsega@mchsi.com.
Our mailing address is
Gary Olsen Photography
2 745 Andrew Court
Dubuque , Iowa 52001
4. If we can book your wedding, one third of the package price is due at the signing of the services agreement. This locks down your date, your video and photography shot list, and that's all there is to it. All of your video and still photography needs from one source.

hotography has been the core competency among Gary Olsen's repertoire of skills, and he's been involved in all facets of it, including videography, for more than 30 years. Much of his work was confined to the design and publishing world. Event photography was something that occurred as part of a larger project, usually a story for a magazine or commercial project. Gary's emphasis was always on visual storytelling. His work for Fortune 500 company, John Deere, won national honors, and he became very successful.
Because Gary was an early pioneer in computer aided graphic design and desktop publishing, he expanded his capabilities with new media forms to include filmless photography. Gary had one of the first such cameras as early as 1985, almost a decade before digital photography even appeared on everyone's radar screen.

Gary began authoring books on the topic of creativity and computers which were published by North Light Books of Cincinnati, OH. His best selling book, Getting Started in Multimedia Design, is still used by college instructors. He was one of the earliest evaluators of an exciting new software product from Adobe Systems. The program was called PhotoShop, and many of Gary's suggestions ended up in subsequent versions of what has become the most popular graphic design software in the world.
Currently, Gary is the Webmaster for the Dubuque Community School District, and has won every award in his field for quality and design. As you might have guessed, Gary is always busy. And after years of turning down special events photography and videography opportunities if they fell outside the realm of his employ, a number of circumstances conspired to change his mind and embrace the opportunity of providing a valuable service to an important market.
"Believe it or not," says Gary, "I've photographed a lot of weddings. Mostly friends and family, of course, but I quickly realized that I was very good at this. I brought my journalistic experience to the process, and now I bring my web design and video production experience, and I'm able to provide one-stop shopping for the busy and budget conscious bride."
"But what really motivated me to get into this business was the feedback I received from those families I provided service. They absolutely loved my images, and especially my videos of their special events."
According to Gary, "This is the best time to be involved in this enterprise because of the technological advances in digital photography. We can be competitive, provide the bride with more for her family's investment, and truly have wonderfully vivid memories on tape and disk of this special time."
We have re-written the business model for the wedding photographer. For example, depending on the package you select:
You can have a website that will be posted from booking to your wedding day that will contain your engagement photo, maps and directions to your wedding and reception venues, and your gift registry with the opportunity provided your guests to order your wedding presents online if they wish.
Every photo we take of your wedding party, ceremony and reception are yours! No charges for prints or extra prints. Your images are on CD-ROM, and you can print out whatever you want and distribute the photos to anyone you want, via e-mail or prints. The images are of the highest quality and will print beautifully on your own photo-quality printer, or you can take your disk to any image processing station (Walmart charges among the lowest prices per print... 25 cents) and print pictures to your heart's content.
You get a video of your ceremony and your reception. We use high-quality wireless microphones for the reception so you'll get every word, clear, and beautiful.
Finally, all of your wedding photos will be posted to your wedding website where your friends and family can enjoy them, download as many as they wish, and print them for themselves.
Read the package options, and decide for yourself what the best deal is for you. There are many more incentives to book with us.
Finally, Gary Olsen provides one stop shopping for a photographer and videographer. You'll discover you save money when compared to hiring a separate photographer and videographer.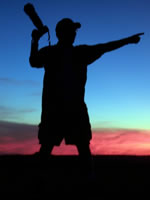 Gary on the Balltown Ridge. This photo was taken by one of Gary's students. He teaches two summer photography workshops through Clarke College and is joined by his teaching partner, Dr. Abdul Sinno. The classes are small (just 10 students), and in the field where hands-on training is the best way to transfer learning.