elcome to Gary and Linda's photo albums from Germany and Austria. As promised, here are all our photos, posted on the Web for our travelling companions' convenience. Not only can you view these photos on our Web site, but you can print them on your home system. If you have a good printer, like an Epson Stylus 740 or one of those newer HPs that can do photo quality, you've got it made in the proverbial shade. Oh, and I apologize for some of the photos on the thumbnail pages which are sideways. I missed a few when I was processing the files. However, if you click on them to enlarge them, they will appear properly in your browser window (most will in any event). Those that are sideways will still print fine, of course, though you will have to tilt your head to view them (kidding... rotate the paper!).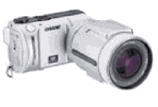 I get a lot of questions about the camera I used on this trip. It's the Sony DSC F505 with a Carl Zeis glass 10X optical zoom lens. I just did a quick search on MySimon.com (a shopping bot I love), and the latest price on this baby is $799. That's a good price since I paid $960 when it first came out. There is no viewfinder... just the lcd screen. But the camera body tilts in any direction while your lens barrel is trained on your subject. This allows you to shade the screen to better see your subject. I prefer this over a viewfinder. I can shoot over my head or off the floor for interesting angles. I also recommend you buy at least one extra rechargable battery, and an additional Memory Stick. So, instead of carrying film, you carry batteries now. What's the big deal? Memory Stick technology as well as USB connectivity are what make this camera a winner. I bought an extra 64 meg Stick at an electronics shop in Vienna, and it was only $140 US (about what I would have paid in America).
The Memory Stick contains all of your photos. You can fit at least 150 on a 34 meg Stick. This is why you need a spare battery. They last, but inevitably, if you're shooting a lot of pictures in a day, you'll need that extra battery. Also you need to buy a case for the camera. It's extra, but Sony's is wonderful and compact. It even carries the extra battery and two extra sticks in the case's lid.
The Carl Zeis optics are unbelievable, plus you can override the automatic features on this camera and shoot totally manual including macro focus, auto white balance, and spot metering. It's got a programmable popup flash that's incredibly powerful. It's almost the perfect camera, and I've owned four of them counting this one which is clearly my favorite.

Okay, here's how to really leverage this technology. When you click on one of the album links, a thumbnail page comes up. Clicking on a thumbnail automatically retrieves the larger version of the photo. Those larger photos are the ones you may want to save and print. By right clicking on the larger images, you will be given the option to save individual photos to your hard disk or copy them to your paste buffer. Once downloaded to your disk, you can open it in any image viewer or photo editing application in Windows (like PhotoShop), and you're off to the races. Or you can copy and paste the images into another application like PhotoShop, Microsoft Word or PowerPoint. You can also print the enlarged photo right from the Web browser. Any questions or problems, give me a call or e-mail me.
If you've never visited our Web before, enjoy exploring other aspects of the site. You'll notice we are into a lot of different graphic design and multimedia enterprises. Enjoy.

All material in these photo albums is the property of Gary Olsen and is intended for the personal use of family and friends. These photos cannot be reproduced for commercial purposes without the expressed written permission of Gary Olsen.