he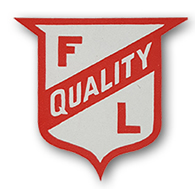 Farley & Loetscher Manufacturing Company is the heart of the epic story told in Wood. The company employed hundreds of people dujring its ninety-year history, people who proudly created and produced quality products that were marketed nationwide. After prospering throughout early growth, the Great Depression and two World Wars, the company eventually succumbed to market forces which were ultimately beyond its control. Today, many people have no idea what went on in the Dubuque Millwork District a century ago or how it impacted the community, culture, and, for that matter, the nation. The massive red brick buildings in the District are surviving reminders of what was once a teaming manufacturing complex. Fortunately, through the vision of city leaders and astute developers, these buildings are being brought back to life. Repurposing them into coffee shops, micro-breweries, restaurants, office space, art galleries, boutiques and loft condos is transforming the District into a growing, vital 21st Century "urban chic" community.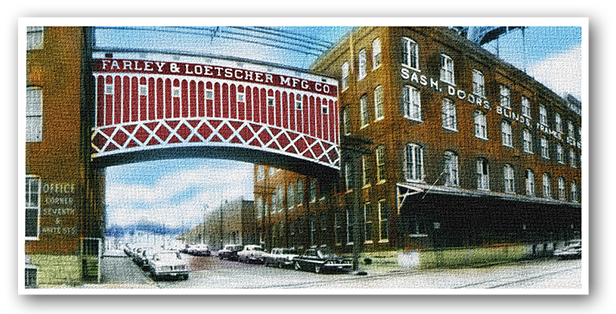 Above, this iconic bridge, one of three that linked factory buildings, was a landmark in Dubuque, Iowa for many years. Sadly, the building on the left and the bridge was razed to make room for a parking lot.
About the Author
arole Loetscher is the author of WOOD. She began this project in 2013 and spent four years on her journey. Carole had an abiding love for local history and the family she became a part of when she married Richard "Dick" Loetscher, a grandson of the founder, Christian Loetscher. Dick passed away in 2012. His education was engineering and design. Through the years working at "The Mill," he amassed a large collection of Farley & Loetscher and lumber industry memorabilia. In 2013, Carole began sorting through boxes of Dick's collection. There were a few pages of a manuscript that Dick had started, and soon she had compiled a large stack of three-ring binders bursting with materials.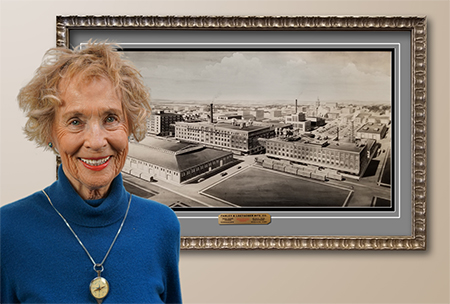 By 2016, she began collaborating with Dave Palmer and Gary Olsen, experienced in writing, editing and book design. They edited her manuscript, curated her collection of memorabilia and photographs, a process that took a good part of a year, and created additional original content. Olsen and Palmer then artistically crafted WOOD into a beautifully illustrated written history.
"The book's topic was exciting," explained Dave. "I like history and learned fascinating details about the company. The buildings are still very prominent today, yet most people don't know the story behind them. I enjoyed helping develop the story and it was a privilege to contribute toward preserving the company's history."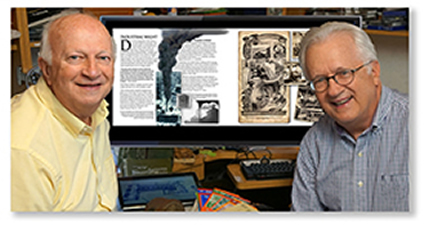 Dave Palmer and Gary Olsen currated the collection of photos and objects that are featured in WOOD, and they edited and designed the book.
Gary Olsen describes himself as a "visual communicator." He explains his approach to the book's design: "I wanted every turn of the page to be a surprise. This is a compelling story of pioneering spirit and an important chapter of the Industrial Revolution. Thanks to the Loetscher family, we had a treasure trove of photos, artifacts and actual buildings to illustrate this story."
This website is designed to connect with people who may have had family members who worked for or did business with Farley & Loetscher. Also there are old house enthusiasts, those involved in historic home restoration, antique collectors who may come across some architectural treasurers, memorabilia about the company, correspondence and what have you. We are very interested in any information about F&L you may have. Visit our Corrrespondence Page. There's an email link you can use to communicate with the author and publishers.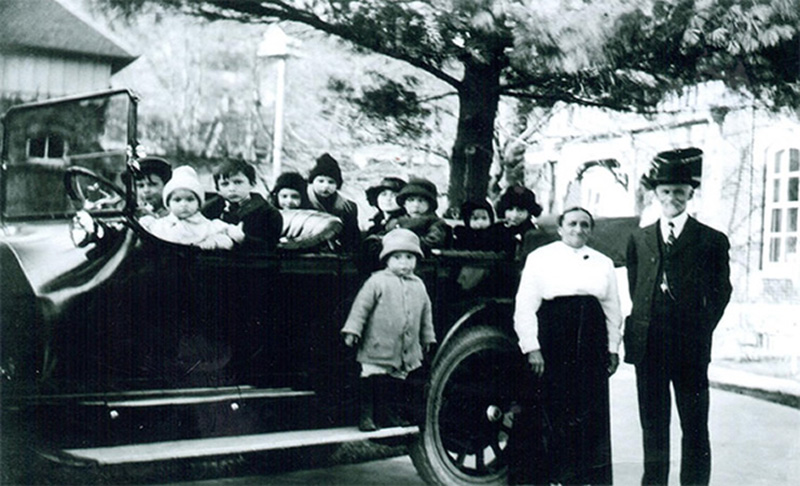 Christian Loetscher and wife Mary with children in their Cadillac touring car photographed in front of their home on Lincoln Avenue. There were dozens of vintage photographs that were curated and catalogued in the making of WOOD - The History of Farley & Loetscher Manufacturing Company, Once the Largest Millwork Company in the World.