Jeff Dodge Portrait for the Sergeant Jeffry B. Dodge Veterans Center on the Campus of
The University of Dubuque.

I was a freshman at the University when I first met Jeff Dodge. It didn't take long and I found myself joining his ever widening circle of friends. Jeff didn't make acquaintances. You went right to friend status. And Jeff's friends represented incredible diversity.

There were athletes, scholars, frat boys, foreign students, townies; Jeff knew everybody and everybody knew Jeff. He loved people and people loved him. He had this easy inquisitive nature.




It wasn't long in our friendship that Jeff discovered I loved to ski. Next thing I knew he planned a Spring Break trip to Upper Penninsula Michigan and Big Powderhorn Mountain. He made reservations for us at Haight's Hostel. Haight's Hostel was basically this nice family's home that took in skiers and we were the only guests.




So we come downstairs the first evening we're there with plans to visit a local bar/restaurant that Jeff knew about. We both noticed this young woman, Mrs. Haight's daughter as it turned out, sitting at the dining room table with stacks of cards and envelopes before her. They were wedding invitations and it looked like a daunting project. Her mother was still adding to the guest list.




Jeff said without hesitation, "Can we help you? I happen to know Gary, here, has excellent handwriting skills. Plans to go out that evening quickly evaporated as Jeff began engineering the entire project. We spent the whole evening addressing envelopes and stuffing invitations and those little RSVP cards and their little envelopes. The fireplace was all aglow and we drank coffee talked and laughed and had the best time ever.




This was typical of Jeff. He never passed up an opportunity to help people, and in the process make friends.




So when the University asked for my input in their plans to honor Jeff by dedicating the new Veterans Center in his name, I was inspired by my own personal memories of Jeff.




With the help of Melissa Hemaseth, Peter Smith, Jesse James, Rick Ernst, Jeff's family and friends who contributed their personal memorabilia to this project, I prepared a special portrait of Jeff.




The portrait hangs in the center for this generation and future generations of veterans so they can get to know Jeff Dodge for whom this great facility was named.




I hope, as we look upon this portrait, we will see Jeff the soldier who made the ultimate sacrifice, but we will also see Jeff the little boy, Jeff the student, Jeff the athlete, the frat brother, the University graduate, the fiance, and Jeff the son and brother.

The piece's image area measures 56 x 20 inches.
My dear friend and golf partner, Dr. Sudhir Koneru, is pictured above. I secretly took a photo of him at the bar in a club we belong to, and with several contributions from his colleagues, friends and family, I produced this retirement tribute. He's an anesthesiologist, and I considered incorporating many of the tools of his profession, however, a better idea that provided more room for charming photos was the heart monitor graphic, something he was always mindful of in his thousands of surgical procedures in which he participated. Once again, I incorporated a loose drawing of my subject and spared the use of color for a more contrasting and dramatic affect I think. This style of portraiture was actually where I started while studying with an early mentor, Francesco Licciardi. Click on the image above to see a larger more detailed version.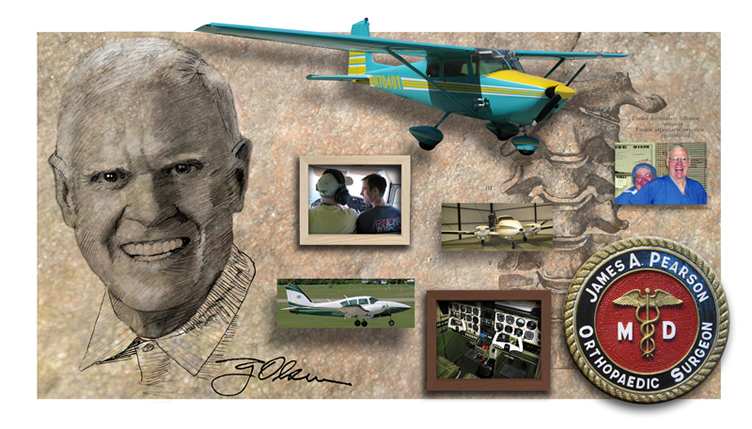 Above, Dr. Pearson's Retirement
I am continually adding projects and works in process to this Web site for clients to review and for you to stimulate your creativity. Ideally, this is a collaborative process with all family members involved. Press the button above to see current works in process and see what my clients see as a composition takes shape.
A lot of my clients ask, "What kinds of things would be appropriate for a Memories piece?" I like to say, "Anything that will fit in a shoebox." That seems to be the appropriate size and scale of objects (small photos, badges, buttons, pins, any 2D or 3D object) that work best. One project I did, however, required a tractor, and another a pickup truck... but I had good photos of them, so it worked out. The image below is one of my most recent projects, and it exemplifies best what I'm after. Look at the photos, postcards, the ruler, apple, flag in the background and a few pins and badges. This is perfect. A family recently wanted me to include their family dog in a piece. They had a lovely photo which I carefully cropped and included. Look at the bottom selection on this page.
This is an interesting project I did for Radio Dubuque celebrating the retirement from broadcasting of Paul Hemmer, a close personal friend of mine. I got to combine my love of doing portraits with my penchant for collecting materials and arranging them in an assemblage to create a unified design. Click on it to reveal the work that went into it.
A large family combined their memories and collected stuff and I combined them into this combination portrait and assemblage. It took a good part of a month from start to finish by the time we collected images of all of the materials and inserted them into the composition. The bowling ball was a challenge, of course, but the little things are what make this great... like the jar of tomatoes, Cubs logo and the martini. There are pieces of candy sprinkeled throughout the piece, too.

My dear friend, Thom Determan, retired this year from Dubuque Schools, and I had the opportunity to celebrate his life in education in this portrait. Yes, that's his baseball glove in the corner. I've played golf, racketball, but not baseball or billiards with Thom. He beats me every time. When it comes to a sport involving a ball, he is a master. Click on it to see the enlargement.

Click here to see the detail of the portrait above. When it comes to educators... I have this theme going, I guess. The one above is for a retiring high school counselor. Last summer I took this boat trip up the river, and there was this gigantic American flag waving in a gentle breeze. I took several photos of it knowing they would come in handy.

The picture above was commissioned by the teachers and staff at Irving Elementary School for the principal who is retiring. I received a beautiful thank you letter and personal thank you from the principal. "You've captured my entire career in education." The piece contains student art, early "school photographer" portraits, and that American flag in the background was one I photographed last summer on a Mississippi River boat trip. Click on the portrait above to see enlarged detail.
This is a teacher who retired and her colleagues and teachers combined their creativity as well as their funds to finance the project. It was a grand retirement gift.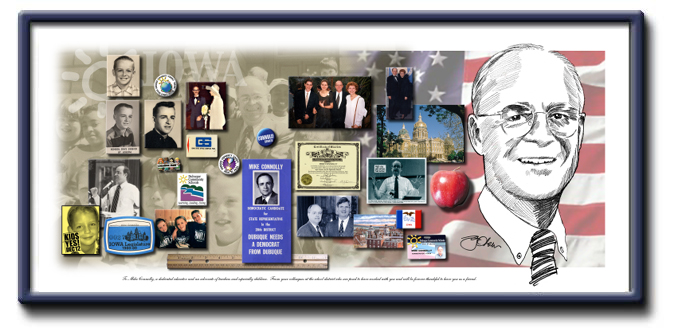 A good friend of mine, Mike Connolly, an Iowa State Senator, has retired from his school administration job to devote full time to being a state legislator. I prepared this for his "parting gift." Here's a shot of Mike after he unveilded it at his party.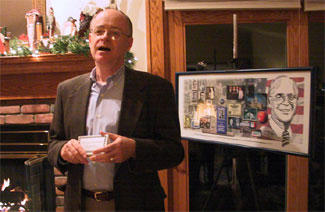 ---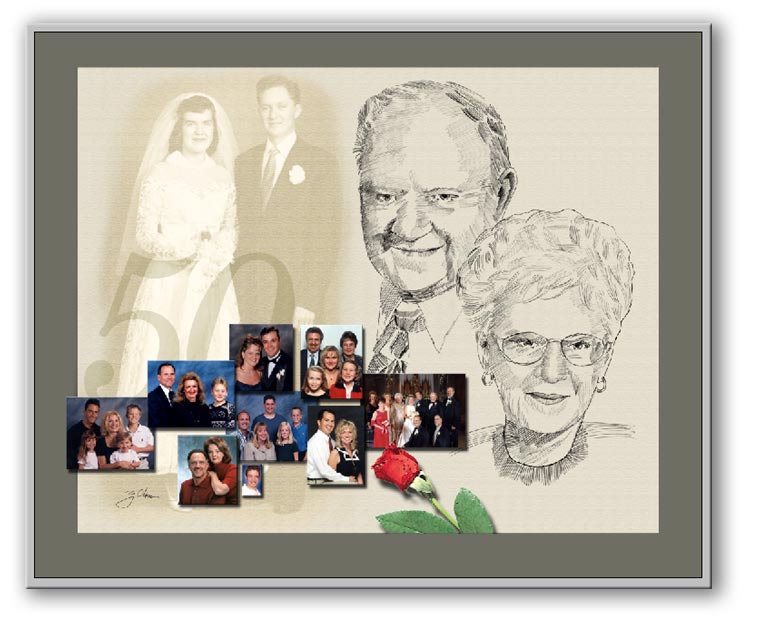 Click here for more Collected Works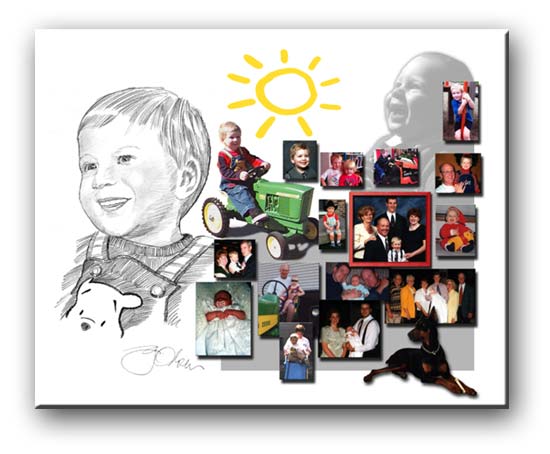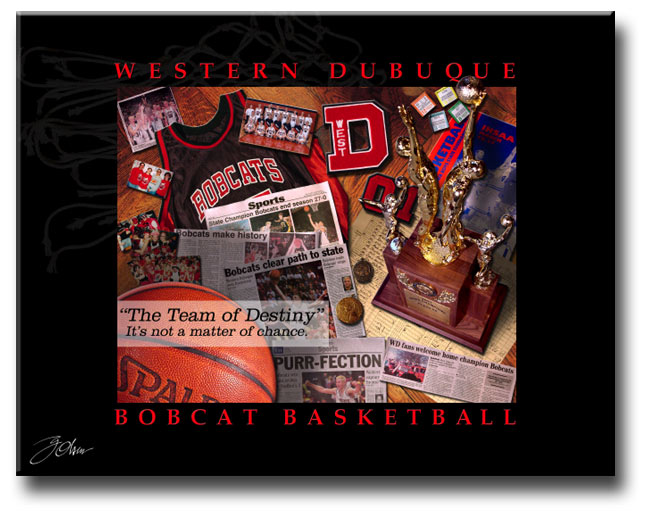 Western Dubuque Bobcat Basketball

"I'm particularly proud of this composition. The original poster from the assemblage is approximately 6 feet in length. All of the items were contributed by the employees and retirees of this manufacturing company. There are tools, gears, old snapshots, a badge, all kinds of visuals that capture everyone's collective memories of a lifetime. The work was published on fine paper for distribution among employees and friends of the company."
"This is an orthopaedic surgeon, the image of whom was prepared for a celebratory advertisement his partners placed in a local newspaper on the occasion of his retirment. The images of joints and a spine were obtained from an antique book on anatomy I had in my collection."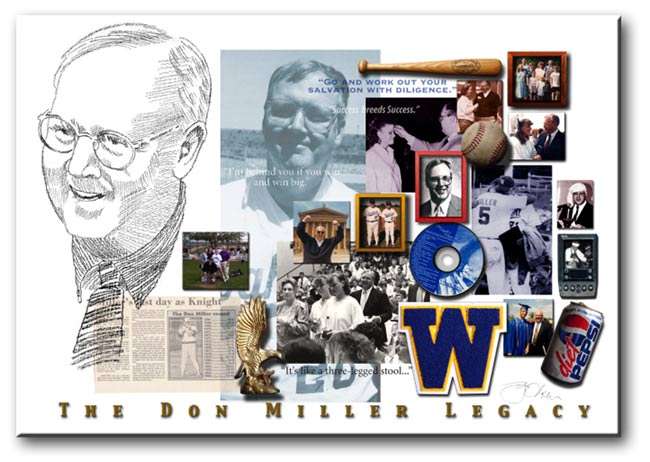 Through a process combining technology with fine art, portrait artist, Gary Olsen, has perfected a technique by which clients can receive individualized and multiple impressions of a unique work of art. Called an "assemblage portrait," the work is highly customized and the result of collaboration with family members or business associates.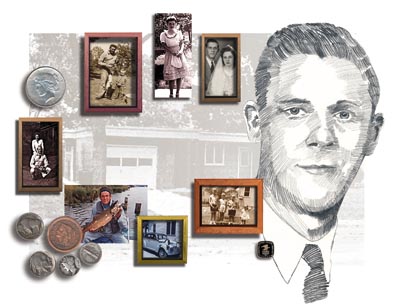 Click here for more Collected Works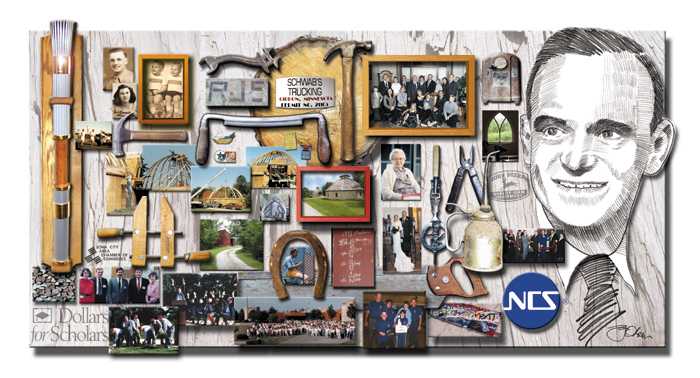 The piece can include precious photographs, drawings, even images of three- dimensional objects such as jewelry, buttons, coins, tools, etc. The idea is not only to portray the image of the person but the historical or personal artifacts that convey more of the person's life. Nothing is harmed in the process, and everything is returned intact. You can include objects that capture a person's personal achievements, interests and hobbies.
The resulting work of art can be replicated for several members of a family or friends. This also means friends and family can collaborate on the work during its design, contributing their own photos and memorabilia. The size of the work can accommodate as many objects as everyone thinks are necessary to make the appropriate artistic statement.
Each assemblage is printed on the highest quality museum grade heavy art paper. Pricing is based on the size and complexity of the original. Subsequent prints are less in price and subject to discounts based on quantities. A print edition can be limited or unlimited depending on the wishes of the commission sponsor.
This is an excellent artistic approach for a special family gift, to honor someone's special achievement or contribution, or celebrate a person's lifetime.
Since each commission is highly customized, prices are negotiated following a consultation with the artist to fully define the scope, size and number of prints of the work. First consultations are free.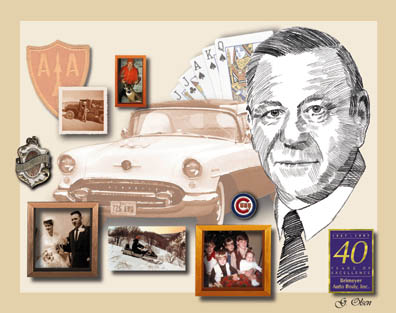 Memories of Lifetime
by Gary Olsen
2745 Andrew Ct.
Dubuque, IA 52001
Call: 563-588-4578
E-mail: olsega@mchsi.com