Cabochon sizes OP001 1.5 CM, OP002 2 CM, OP003 2 CM
These pendants feature opal triplets. A triplet is comprised of three parts that are bonded together (see anatomy of an opal triplet). A triplet is brighter and more beautiful that a conventional opal, but also it's more durable. You can wear it every day, and it's impervious to extreme temperatures, and will never craze, crack or chip.
This opal was mined by my family in one of the few operating opal mines in North America, located in Spencer, Idaho. The mine is just west of Yellowstone Park. Yellowstone sits atop a vast subterranean lava dome that creates the unusual and unique geysers, hot springs and bubbling mud pots. These are perfect geologic conditions for creating opal.
Gas bubbles are trapped in cooling mud pots and mineral rich water seeps back and condenses in those pockets. The minerals in the water settle to the bottom of the bubble and form striations if the conditions are just right.
When you mine the matrix rock and break it apart, you look for black nodules. These are the bubbles frozen in the rock. Slice them with a diamond saw, and you will find the opal laying in slabs. Light is refracted by the mineral formations producing all kinds of colors.
My dad mined these opals for years, traveling to Spencer and staying for months at a time during the summer. He became good friends with the owner of one mine in particular. Mining the opal was extremely hard work, but over the years my father accumulated quite a supply from which he crafts lovely pendants in gold filled and sterling silver mountings and chains.
My dad became interested in stones when I begged him to take me to a local gravel pit to look for agates. He became a lapidary, and I became a jewelry designer.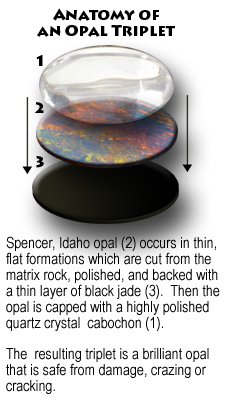 Therapeutic Power of Opal
People believe opal has healing powers, particularly for people suffering from depression. Legend says that opal can help its wearer find true and real love. Opal is the birthstone for October.
Opals also enhance the positive characteristics of people born under the zodiac sign of Cancer. It's supposed to bring good luck to those born under the sign of Aries. Opal is also the stone for childbirth.
How to Order from Me

E-mail me and tell me which pendant you're interested in. I have a Pay-Pal business account, and I'll provide you with all the details to make our transaction. Let me know what length of chain you wish... 16 or 18 inches. Shipping and handling depends on how you want it sent, and we'll determine that in our correspondence. 6% sales tax applies if you're a resident of Iowa.
Yes, I know... this is not some big time jewelry website. I endeavor to make my website more intimate, friendly, and the e-mail you will send me will start the process of my getting to know you. This is critical to our success. Call it personal selling, relationship selling... whatever. If we do some business, great. If we become friends... that's even better.