Notepaper
Note that there is more room on the sheet. I reduced the tapper and hand to less than half its original size. I moved your name to the upper right to give it balance. You got loads of room. The logo in the corner should be in color like the rest of the sheet. I also distorted the logo that is beneath the beer spill just as it would appear in real life. I did reduce the logo, but I wouldn't make it any smaller. Keep in mind, the best correspondence is brief with lots of space around it. You should never fill this sheet with text.
Beneath your name you can put a subject line or a "To: SoAndSo."
Note that I added bubbles in strategic spots in the spill. It really adds depth and life to it. Sometimes I amaze myself.
Therefore, I would recommend it be printed on a smaller stock and trimmed to a sheet 8 inches high maximum. This way it can be folded in half and put into a standard envelope, paper clipped to a report or large sheet of paper.
I've resaved the file as a JPG and integrated into two Microsoft Word templates. This way you could just open it up on your computer, type away, and output the note on an office laser printer.
Download 6x9 Long NotePaper NEW!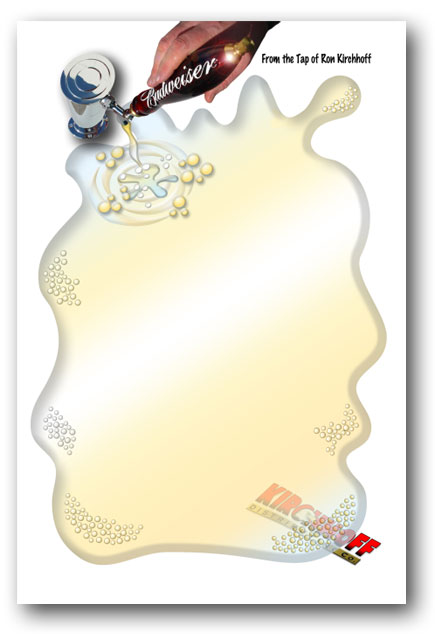 This is the 6x9 inch format. Click on the link at left to download the stationery with the graphic embedded and text boxes in place.
Important note: you really can't print full bleed (off the edge) when printing to a laser or ink jet printer. Now a commercial printer can print full bleed because they just trim the sheet after it's printed. There will be a white margin above the hand which will form a frame or vignette. If you don't want this and want a full bleed off the edge on top, just cut the top off to the edge of the hand. If you have a good paper cutter in the office, this will work great.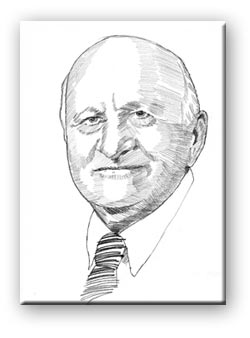 his is the Kirchhoff Distributing Company Logos and Graphics page on garyolsen.com. At left is one of the patriarchs of the company whose portrait is part of a large graphic design project celebrating the legacy and history of Kirchhoff Distributing Company. A special series of portraits was prepared by Gary Olsen, and you can see the evolutionary process of this commission in a virtual studio right here on this Web site. Just click here.
This project is particularly interesting because the finished product is a large framed montage of images including some fascinating and colorful beverage distributor memorabilia, collected items from Kirchhoff's long history. Did you know the firm started out as an ice cream company?
Logo Graphics, Type and Color Scheme
Note that the logo at right is a full-color logo, which means to get the good blends and depth, the logo must be reproduced in a four color process which may be impractical for some applications where you can only use solid colors. In the event solid colors are used, the above color fornulas and Pantone equivelencies have been provided. A good vector logo for spot color applications is featured below.
On the gold metalic part, it's best to use a gold metalic if you're working in decal vinyl. But if you are screen printing a flat color, Pantone 612 will work.